iXsystems TrueNAS Core

Experience True Storage Freedom
TrueNAS CORE is the community edition of the TrueNAS Open Storage OS, and the successor to FreeNAS. Enterprise-grade, yet completely free to use, CORE is built on the powerful OpenZFS file system to keep data safe and secure while providing block, file, and object storage over a network to back up and share files, serve media, and many other data storage applications. With over ten million downloads and one million deployments, TrueNAS CORE is the world's most popular software-defined storage.

Free & Open Source
TrueNAS CORE is completely free to download and use. Always.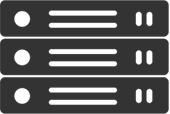 Unified Storage
With support for block, file, object, and application storage, TrueNAS CORE integrates seamlessly into any environment.

Built on OpenZFS
OpenZFS ensures data integrity from start to finish with powerful data protection and management tools.
Highlights
Installs on x86 hardware, VM, or Public Cloud
Block, File, Object Storage
Completely free and Open Source
Self-Healing OpenZFS File System safeguards data
Easy to Use UI
Built-in RAID Protection & Volume Manager
Unlimited Snapshots and Clones
Data Compression & Thick/Thin Provisioning
LDAP & Active Directory Integration
Plugins enable enhanced capabilities (media server, etc)
Leverages DRAM & flash for performance
Community-Supported