iXsystems TrueNAS Enterprise

Enterprise Features and Support
TrueNAS Enterprise is designed for business-critical data, 24×365 operation, and full Enterprise-grade support. It is delivered as turnkey systems with High Availability (HA) options. Enclosure management, proactive support, and integration with key vendors like VMWare and Veeam are included. Enterprise support services with 24×365 coverage and onsite support options are backed by a global spares network. TrueNAS Enterprise makes it easy to integrate the storage into your organization's IT infrastructure and deliver reliable and performant storage.
TrueNAS M-Series
High-Performance Storage Powered by the Latest Technology
For the last word in performance and reliability, look no further than the TrueNAS M-Series.Backed by NVDIMM and NVMe technology, the M-Series is capable of bandwidth up to 10 GB/s and can grow to almost 20 PB in a single rack, enough to support over 10,000 VMs.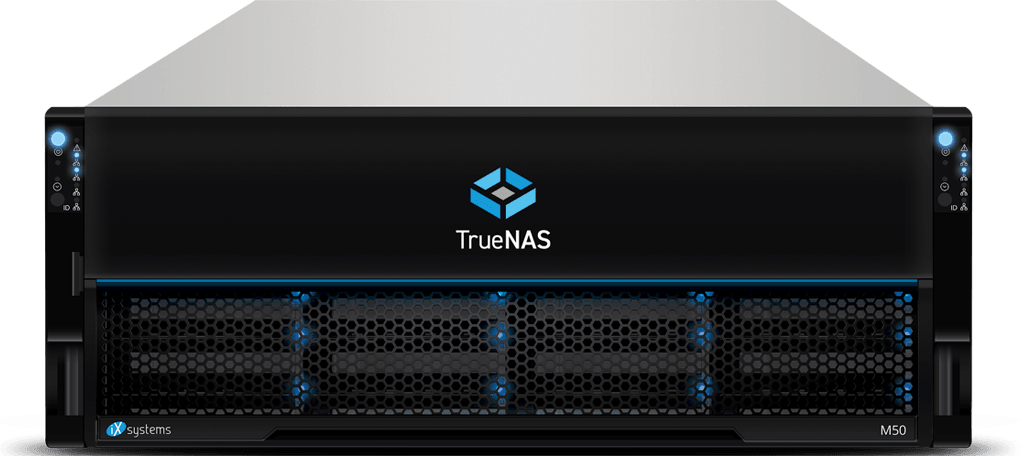 TrueNAS R-Series
High-Density, Configurable Storage
The TrueNAS R-Series is packed with value and can scale up to 3 PB of raw capacity. Available in both all-flash and hybrid models, these single controller appliances provide excellent storage density and price performance. The TrueNAS R-Series can be installed with TrueNAS CORE, Enterprise, or SCALE.
TrueNAS X-Series
Compact Storage with Unbeatable Value
Designed for small/medium businesses, the TrueNAS X-Series is a compact storage appliance that can deliver speeds over 2 GB/s and scale up to 1 PB of raw capacity in 6RU. With high-availability options and top to bottom data protection, the entry-level X-Series ensures maximum uptime while providing the lowest Total Cost of Ownership (TCO).


Built on OpenZFS
The OpenZFS file system provides powerful data protection features including snapshots, replication, compression, and copy-on-write.

Storage Freedom
Free your data and your budget with no vendor lock-in and our all-inclusive licensing model with no hidden fees for future add-ons.

High Availability
High-availability options offer full redundancy of all active components to minimize failover time and maximize uptime.
Features